VISITING THE FORTRESS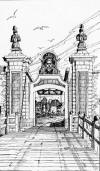 ----------------

It is a place that contains a wealth of cultural resources and landscapes reflecting the military, commercial, fishing and settlement activity that occurred here from 1713 to 1768. They contribute to telling a significant story in a defining period of Canada's history - the concluding period of Anglo-French rivalry for control of eastern Canada.
Step back in time to 1744 just before the Siege of 1745! Experience Louisbourg, a thriving seaport and capital of Ile Royale (Cape Breton Island). The Fortress was one of the busiest harbours in North America during the 18th century and one of France's key economic and military centres in the New World. Today, it stands as North America's largest historical reconstruction.
In 1758 Louisbourg was besieged a second time. Without a strong navy to patrol the sea beyond its walls, Louisbourg was impossible to defend. Attacking with 16,000 troops supported by 150 ships, a British army captured the fortress in seven weeks.


Last Update / Dernière mise à jour: June 27, 2017 17:41